During June, July and August, I have a solo show of my art at the Georgia Annwell Gallery at Marin TV, 819 A Street, San Rafael, CA.
Art Opening: June 16, Friday, 4-6 PM. Meet the artist!
There will also be a book signing and both books in the Women of Color and Accomplishment series plus the Exhibition Catalog will be available for sale.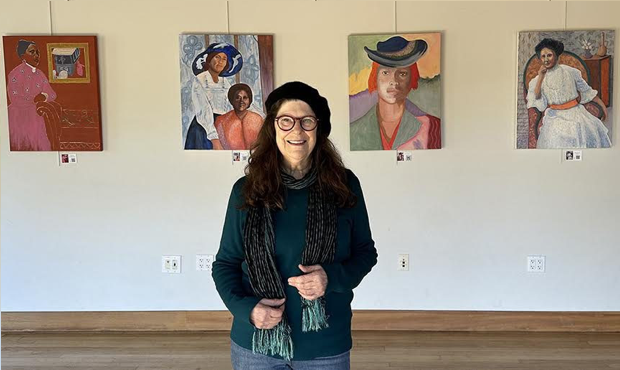 CAROL JACOBSEN PRESENTS
"WOMEN OF COLOR AND ACCOMPLISHMENT"
Marin TV is pleased to showcase "Women of Color and Accomplishment" paintings from artist Carol Jacobsen at the Georgia Anwell Gallery at the Community Media Center of Marin.
Artist Statement:
The body of work included in this show is my creative response to the murder of George Floyd. Watching the horrific video of his murder and the subsequent attacks on protesters by white supremacists motivated me to find a way to fight racism. Like other social justice painters, I decided to use my skills to help people look beyond the color of one's skin and instead judge them by their character.
As a painter with 50 years' experience, I embarked on a series of portraits of African American women who continue to be left out of history books. I painted the 100 portraits in the series Women of Color and Accomplishment to share their lives of dedication to overcoming challenges and giving back to their community. They inspired me to give back to my community by spreading awareness of their actions. Starting dialogs with others on racism in this country, both past and present, I hope to motivate people to help oppose racism and promote racial equality.
Event: Women of Color and Accomplishment Opening Reception
Location: Community Media Center of Marin
Venue: Georgia Anwell Gallery
Address: 819 A Street, San Rafael, CA 94901
Date: Friday, June 16, 2023
Time: 6:00 – 8:00 PM
For more information about Carol's work, visit her website: caroljacobsen.org
or instagram.com/carol.jacobsen.artist/